Ever open a new game everyone was talking about to find out it wasn't exactly the "hotness" you expected? How do you know what game is really right for you and your game group? Now you can explore games in depth and earn BoardGaming.com rewards and achievements for doing it!
Go to:

Explorable Game Collections

Cooperative Games
Explore a wide range of highly recommended cooperative games.
View the collection >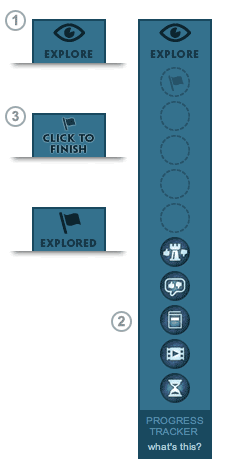 How to explore a game
1. Log in or register for the site.
2. Determine if the game is explorable
Each week a select group of games will be explorable.
When on a game page that is explorable you will see an Explore tab (with the eye icon) located on the bottom-right of your browser window.
The bottom of this page lists games that are currently explorable.
3. Complete ten exploration steps
The available steps are listed lower on this page
To see which steps you've completed – while on the game page that you are exploring, click the Explore tab (with they eye icon) located in the bottom-right of your browser. It will expand to show you which steps you've completed and what you did to complete them.
At the bottom of this page, a check mark will appear below the games that you have finished exploring.
4. "Click to finish"
When all the steps are full, the eye icon on the Exploration tab will change to a flag and it will say "click to finish." Simply click on the flag and you're done!
You may need to refresh the game page after you've completed the tenth step in order to have the eye icon change to the flag.
Exploration Steps


Spend time reading
If you spend a lot of time on a game page, you may notice a little egg timer pop up in the lower right-hand corner. Clicking on that timer will count as one step



Read then rate reviews
Up to six reviews that you read and then rate will count as exploration steps



Read Reviews on Amazon
Clicking on the "Read Reviews on Amazon" button will count as an explore step. We obviously don't have any way to know if you are really reading the reviews, but there are often 100s of reviews for popular board games, so it makes sense to check them out. Full Disclosure: The Amazon button is an affiliate link.



Read then rate tips
One tip that you read and then rate will count as an exploration step



Visit the game's official web page
Clicking on the "Official Game Site" link in the info section of a game page will take you to the game publisher's site and count as one step



Browse the rulebook
Clicking on the "Rulebook" link in the info section of a game page will take you to the publisher's site where you can view or download the official rulebook and count as one step



Watch videos
Perhaps the best way to learn about a game, viewing videos via BoardGaming.com will count as one step



Follow a game
Following a game will count as one step. If you unfollow the game before you have completely explored it, that step will be canceled. Following a game will notify you when new reviews and tips have been written for that game.



Play the game
The ultimate way to explore! If you play the game as a demo at a convention or local game store, own it yourself or play it at a friend's house, then logging that you have played it will qualify as a step towards exploration. (you are on the honor system for this step!)


Rewards for game exploration
Game exploration quests are a great way to get rewarded on BoardGaming.com! Along with the rewards you get for performing certain steps, you'll also get a nice reward for completing the exploration quest for a game.
Each time you complete a game exploration quest you will receive:
+15 Explorer XP
+25 Gamer XP
+50 BG Gold


FAQs
Q: There aren't any or enough reviews and tips for me to complete the exploration quest for a game, what now?
A: Some games, especially new or upcoming games, may not have user reviews or tips. By following the game, you will be notified when a new tip or review has been written for the game!
Q: I've already rated tips and reviews for a game before it became explorable, but those ratings aren't showing up in the Exploration tab progress tracker.
A: Previously rated tips and reviews will only count as steps towards exploration for a game if there aren't more tips and reviews available for you to read and rate.
Q: I was following an explorable game, but it isn't counting as a step.

A: If you aren't currently following a game that is explorable, you won't receive a following step, even if you used to be following it. Check to make sure you are still following that game.