JOIN THE ADVENTURE

Quests are the life-blood of this site. Their design is to make everything you do fun and rewarding.
New quests will become available, so keep an eye on the news for quest updates!

Where are the quests?
The Quest pages can be accessed from the "Quest" tab in the main nav, or on pages with the Quests sub navigation in the upper right (like this one!). Quest pages show available quests, your progress and those you have completed.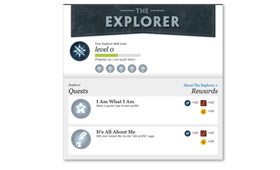 How else can I gain XP?
Many of the things you do on this site award gamer and skill class XP. Learn more of the specifics by reading up on the gamer and skill classes.



What are the rewards?
Every time you complete a quest, you'll receive a badge that you can choose to display next to your avatar. The quest pages also show you what other rewards you'll receive.