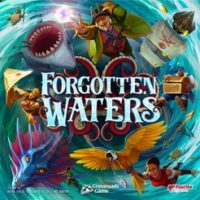 Forgotten Waters
Piratey Misadventure in a World o' Magic!
Uncover a massive world full of silly adventure you will return to over and over again. Explore standalone scenarios, each helmed by a larger-than-life pirate captain, whose ambitions may undo you all. Face harrowing crossroad events that will shape the course of your game. The world of Forgotten Waters is silly and magical, with stories designed to encourage players to explore and laugh in delight as they interact with the world around them. It's a game in which every choice can leave a lasting impact on the story, and players will want turn over every rock just to see what they find. Forgotten Waters features five scenarios and a massive location book that provides players with tons of choices wherever they go.
Add a Review for "Forgotten Waters"