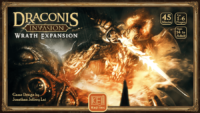 Draconis Invasion: Wrath
Introducing Draconis Invasion: WRATH, the first expansion to Draconis Invasion, the ultimate dark fantasy deck-building game.
Draconis Invasion: WRATH enhances the base game with added player interaction, variation, depth, urgency, culling, Terror management, push-your-luck, one-time-use cards, alliances, and some extra surprises. The WRATH expansion brings over 300 cards in 12 blind-pack mini-expansions that are progressively unlocked with every new game for an unfolding story of blood and glory.
Add a Review for "Draconis Invasion: Wrath"