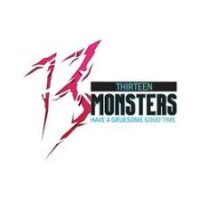 13 Monsters
13 Monsters is a board game that requires skill, a good memory and a bit of luck. Come up with the perfect strategy as you collect, fight or trade for the parts you need to create your own ultimate monster. If you do not have such a fighter yet, just keep looking for monster sets in the playing field, but never let your guard down! Other players will never stop building their own army of perfect monsters, even if they have to attack you with everything they've got.
Will you manage to create your own monsters in time to defend what's yours and beat your opponents or will your ill-advised strategy cost you an arm and a leg? The scientist who collects the most Health Points or becomes an "Elemental Master" wins the game!
Add a Review for "13 Monsters"