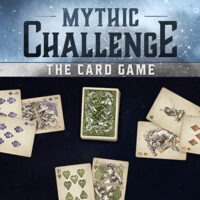 Mythic Challenge: The Card Game
Mythic Challenge is a brand new card game playable with any standard 52-card set of playing cards. It was designed specifically to be played with the Tournament of the Mythic Kingdoms set of illustrated playing cards, a Kickstarter campaign run by your very own BoardGaming.com! Greg illustrated the cards. Jim did the design work. Jon came up with the game.
Visit the Kickstarter Campaign (Ends Aug 20th, 2020)
THE THEME: The Mythic Kingdoms is a fantasy world where the Orcs (clubs), Elves (hearts), Dwarves (diamonds) and Undead (spades) hold tournaments to compete in challenges of strength, skill, and strategy.
OVERVIEW: The game is played as a series of "challenges" or rounds where you try to have the highest total score in your field of played cards. You continue to play cards in front of your (within your field), adding the values of your cards, until there is a winner of the challenge. Soldier cards (numbers 2-10) are worth their specific number of points (2-10), all royalty and champions (JQKA) are worth 10 points, and Jokers are worth 0 (zero) points. You win a challenge if at the start of your turn, the total score of the played cards in your field is higher than any other player's score.
It has a little bit of the game War in it, some trick-taking, a little bit of role-playing if you want, and our favorite part: each court card has special abilities that can affect you and/or other players. You can play individually (up to 4 players) or in teams (up to 8 players).
Add a Review for "Mythic Challenge: The Card Game"