Hi Gamers,
Our Kickstarter campaign has a little over 1 week to go, and we are very happy to report a successful campaign so far. We'd like to thank all of the boardgaming.com users who have supported the project so far.
Here is a live chart of the project status. We are hoping to reach our remaining stretch goals before the end of the campaign.
Creating and delivering a physical product means that most of the funding is going toward development, manufacture, and shipping. However, we should have some left over to help support the BoardGaming.com website.
Mythic Challenge: The Card Game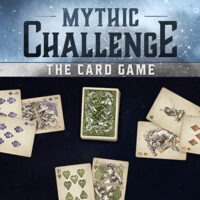 Did you know that we created a brand new card game for our Kickstarter project? You don't need to wait until we deliver the cards to try the game – Explore the new Game Page!
BG Rewards for Backers
Every backer of our Mythic Kingdoms kickstarter campaign who chooses one of the reward tiers will be eligible for some great BG rewards. Here is what we currently have proposed for the BG rewards:
Supporter Badge

Each backer will receive an exclusive Tournament of the Mythic Kingdoms supporter badge that they can use to customize their profile. Bragging rights!
BG Gold
People new to BoardGaming.com won't be familiar with how BG Gold is used. It's mainly used to "Heart" games, and hearting games is the easiest way to manipulate our game Popularity list. You can also customize your profile with an awesome Avatar and Badges.
Each backer will receive an amount of BG Gold based on the pledge tier they choose. $13 Tier = 13,000 BG Gold, $23 Tier = 23,000 BG Gold, The Ultimate $158 Tier = 158,000 BG Gold, etc. With that much BG Gold, you'll be able to Heart your favorite games like crazy!
The reward certificate contained in each delivered package may only automatically reward 13K BG Gold. So, contact Jim via kickstarter or email to receive the additional BG Gold reward after redeeming your certificate.
Power Up for 360 Days!

The Power Up feature is something we added in 2019 specifically to reward those who help our site financially. The Power Up provides numerous benefits that are useful for avid users of BoardGaming.com.
New Avatars

We will be creating a new set of Avatars based on the characters in the Mythic Kingdoms. These Avatars will have a high BG Gold cost, but backers will be flush with BG Gold so they can splurge a little.