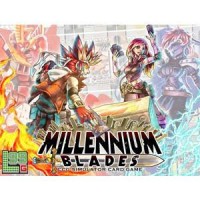 Millennium Blades

In a world very much like our own, Millennium Blades is the world's most popular collectible card game. Continuously in print for more than a thousand years, the game has seen thousands of expansions and billions of cards.
Players from around the world seek to become world champions by mastering duels and collecting the game's rarest and most coveted cards. Still others live by the game, building financial empires by dealing, speculating, and trading in the aftermarket. Many are content simply to play for fun and meet new friends.
Your very own Millennium Blades Legend is about to unfold! What will be your path to glory? With your starter deck in hand and a dream in your heart, the time has come to step boldly into the world of Millennium Blades!
Add a Review for "Millennium Blades"