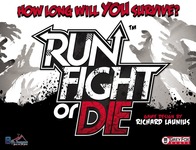 Run, Fight or Die!

Run, Fight, or Die is an adventure dice game for 1 – 5 players taking on the role of a heroes or heroines stranded in a small town that has mysteriously been overrun by zombies.
During the game players will work to escape the town, saving as many terrified townsfolk as they go. These townsfolk become followers and bring their skills, and often problems, along with them – forcing the player to adapt to their party as they flee the zombie infestation. Each follower will provide victory points to the player: the more beneficial followers provide less victory points while the followers that present penalties provide more points.
As soon as the game ends, players total their individual points (which will include their followers and their remaining health) to establish the winner.
Add a Review for "Run, Fight or Die!"