With the boom of touch screen devices, board games can now be properly re-created in digital form. What makes digital board games so exciting is that most are created with online multiplayer, local "pass and play", and single player vs. AI. Now the dilema of not having someone to play with is no longer an issue!
Here are some of our site features related to digital board games:
A "Digital Board Games" link has been added to the main navigation drop-down under "Games."
The

color green

is being used as a visual cue.
App store, Android Market and other store quick links are included in the publisher overviews to make it easy to go straight to where you can buy the game on your device.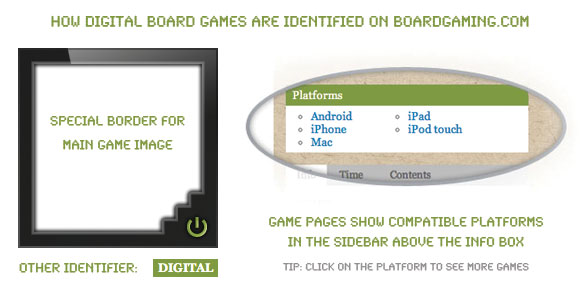 Below is a list of the digital board games we've added to the site so far.

Small World
Days of Wonder
Carcassonne for Android
Hans im Glück Verlag, The Coding Monkeys
Carcassonne for iOS
Hans im Glück Verlag, The Coding Monkeys
Ticket to Ride iPad
Days of Wonder
Hey, Thats My Fish!
Fantasy Flight Games
Elder Sign: Omens
Fantasy Flight Games
Ascension: Chronicle of the Godslayer
Gary Games, Playdek Inc.
Forbidden Island
Gamewright, Button Mash Games Inc.
Food Fight iOS
Cryptozoic Entertainment, Playdek Inc.
Ticket to Ride Pocket
Days of Wonder
Nightfall
Alderac Entertainment Group, Playdek Inc.