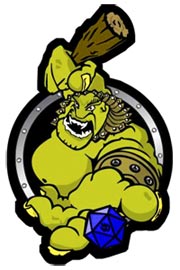 We're pleased to announce that BoardGaming.com has been nominated for OGREs' 2012 Website of the Year OGGIE award!
Voting is open to everyone, and is open until midnight CST October 31st.
About OGREs, Inc.
OGREs, Inc. is an international network of analog gaming clubs with over 30 chapters across three continents and growing. In 2011, OGREs began a program known as the OGRE awards, or the OGGIEs, named after the organization's mascot Oggie the Ogre. Most categories simply showcase items loved and utilized by members of OGREs during the year, a simple declaration of thanks and continued support from members of the hobby to workers within it.
Below, in no particular order, is the listing of this year's OGGIE 2012 nominees.
Game of the Year
Ascending Empires
Dungeons & Dragons 4e
Amtgard
Hobomancer
Board Game of the Year
Lords of Waterdeep
Small World
Ascending Empires
Ogre (Kickstarter Edition)
Card Game of the Year
Ascension: Storm of Souls
Smash Up
Cards Against Humanity
Edition Wars
Company of the Year
Catalyst Game Labs
Cubicle 7 Entertainment
Hex Games
Xion Studios
Asmodee
Website of the Year
BoardGaming.com
The Escapist
The Death Cookie
Pod/Vidcast of the Year
The Dice Tower
Going Last
2 GMs, 1 Mic
The Game Knights
All Games Considered
Artist of the Year
Lindsay Hornsby
Jeff Johnson
James Hornsby
Raina Telgemeier
Author of the Year
Matt James
Steve Johnson
Ari Marmell
Colin McComb
Lifetime Achievement Award
Richard Borg
Marc Miller
Margaret Weis
Jonathan Tweet