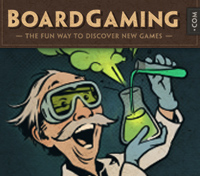 BoardGaming.com – The Website
Publisher Notifications ( 1 )
Note: This page was originally created to allow us to test certain features, but it is already taking on a life of its own. We're especially excited that users have begun to write helpful tips for using the site!
On BoardGaming.com you can be an Explorer and discover new games and strategies, act as a Professor and offer new game tips, strategies and house rules to help other gamers, or be the Critic and review games, all for experience points, achievements and other rewards!
User friendly site geared towards making it fun and easy to find great games to play.
Track and follow games that interest you.
Gain recognition and followers who value your insight.
Customize your profile with exclusive and licensed avatars, badges and background themes!
Add a Review for "BoardGaming.com – The Website"