Hey there, I'm Andrew; game industry professional, reviewer, gamer, fellow Boardgaming.com member and the host of BoardGaming.com's new discussion series called "Your Turn."
This is your chance to let us know what YOU think about a variety of topics related to hobby gaming. I'll start the conversation and then it's "your turn" to chime in and add to the discussion. Each Your Turn discussion will have a new topic, and we may even have some special guests make a surprise visit down the road. In the meantime…
So Many Games, So Little Time.
Many in the hobby game industry have described the past few years as "the golden age of board gaming." And I would have to agree that the game industry has taken a huge leap when it comes to the sheer number and different types of games that are being offered. So many in fact that we now have new vocabularies to describe different types of games: (LCG, CCG, DBG, CO-OP, EURO…) and game mechanics: (Worker Placement, Simultaneous Action Selection, and the dreaded "Roll and Move").
We have podcasts, video reviews, how-to-play tutorials and websites. We have game designer forums and conventions that have grown in attendance beyond anyone's expectations. Add to this the apparent growth of the appeal of "geek" culture in the mainstream. Shows like Tabletop and games featured on The Big Bang Theory are breaking down many barriers and letting more and more people in on "designer games." You can now find games like Arkham Horror and Wrath of Ashardalon sitting near Monopoly at Barnes and Noble. Then throw in Kickstarter. Many good and (not so good) games are giving small publishers their start and also fueling established companies' abilities to produce. More and more games are streaming into our little corner of the world. It has become a new way (in America at least) to spend time with the family.
Okay, what can I say – I see it and I want to play it! I look at each game as an artistic creation – the brainchild of some eccentric mad scientist-like designer who spent years creating not just a board game, but an "experience" just for me. Even if it's a themeless mechanic machine… someone thought of it. They want me to play it, dissect it and conquer it! I want to honor them all. Mr. Gygax, I salute you! Hats off Mr. Weisman for Battletech and Heroclix. Thanks Mr. Bauza for your 7 Wonders and the trip down the Tokaido road. Great idea Mr. Vaccarino! And Mr. Garfield? We have to talk.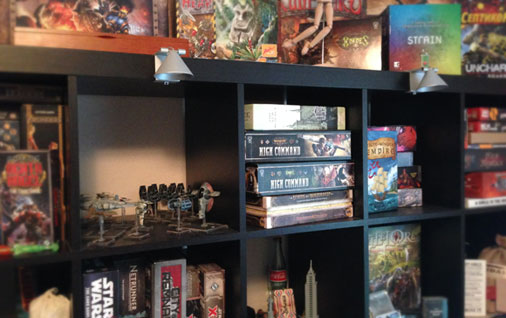 You can see the obvious problem here. There is absolutely no way I can play all the games I want to play, review all the games that should be reviewed or have a complete collection of the games I want to collect. I can't experience all that the hobby wants me to experience. The sad thing is I can't even come close. If hobby games provide an express train to all the experiences life, history, science fiction and fantasy have to offer, how can you not want to buy a ticket and hitch a ride. It's an exciting time for the hobby giving lots of folks jobs and income. Yet, as exciting as it is, it's also a bit discouraging.
This is a hobby right? A hobby is the thing you do in your "spare" time. Sometimes I listen to podcasts and they talk about the number of games they played in the past two weeks and I think: "Yikes! I didn't have time to do the laundry!"
Question: Is this game explosion a good thing? Or are there just too many games? How do you choose what games to play and buy in this crowded market?
So many games so little time…
Your turn…