Dice Games
(TL;DR – Click here if all you're interested in is the games added >)
Dice are inextricably linked with gaming. Chances are you grew up in a household with one or more of the classic "roll-and-move" games such as Monopoly or Trouble (with the Pop-O-Matic bubble!), or "roll-and-keep" games like Yahtzee. The standard pip-etched six-sider is de rigeur in such games. Those who graduated from old-school board games to tabletop RPGs will be familiar with the wide variety of shapes and sizes of dice used to track character statistics and roll for damage — if you're like me, you may have raided your old board games for dice for fireball damage, and tried to figure out a way to integrate the Backgammon doubling cube into adventures.
Some gamers love their dice. RPG players will seek out particular colors or molds of dice to get the perfect set to match their games. Tabletop enthusiasts will spend extra on Kickstarter games just to get cooler dice, or "pimp out" their games in the aftermarket with a better set of dice. Others are drawn to certain games just because of the design of dice employed.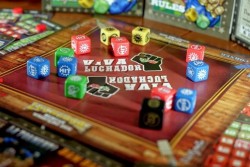 Straight "press-your-luck" dice games have been around for decades, such as the old social standbys "Skunk" and "Pig". There's a modern trend (particularly on Kickstarter) to create nifty symbol-covered dice press-your-luck games, such as Dungeon Roll, Ninja Dice, or the colorful Luchador! Mexican Wrestling Dice, but did you know this practice is nearly forty years old? One of the games I used to play with my older brother is the Parker Brothers "game of escape" Dungeon Dice, which has surprisingly not been kept in print from its 1977 debut, but which you may be able to find with good garage sale or Goodwill skills.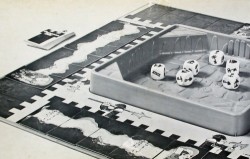 A game just as old, but which has proven more durable in the long run, is Pass the Pigs (formerly Pigmania), which reimplements "Pig" with a pair of decidedly non-standard "dice".
"Roll-and-move" gets a bad rap, but games which use dice to try to accomplish tasks are legion, from King's Forge, where you gather dice as resources and attempt to construct specific items via rolls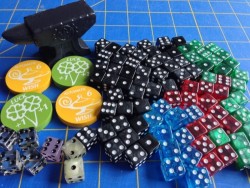 , to Ancient Terrible Things (a particular favorite of our esteemed Sitemaster), where your dice determine whether you successfully unlock secrets, or unleash Terrible Things.
"Dice Games" by itself has expanded as a category. No longer does it refer merely to games where the primary mechanism is to roll dice to achieve a quantifiable result, whether a distance moved or a result of combat. The mechanics for which dice are employed are varied — dice are now being incorporated into games as tracking mechanisms (Tiny Epic Kingdoms) and resources (Steampunk Rally). "Dice-building" games such as Quarriors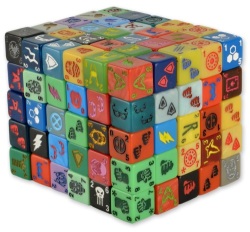 and its systemic descendants The Lord of the Rings: Dice Building Game and Marvel Dice Masters use dice to form armies to square (or perhaps more accurately, cube) off against each other.
A few of the new games added as a result of this update may be more "board game" or "party game" than "dice game", but they still incorporate dice as a major component of their gameplay. Whether you're in it for the mechanics, the aesthetics, or just the sheer volume of dice, hopefully everyone will find a little something to enjoy or explore here — something old, something new, maybe a bit of both.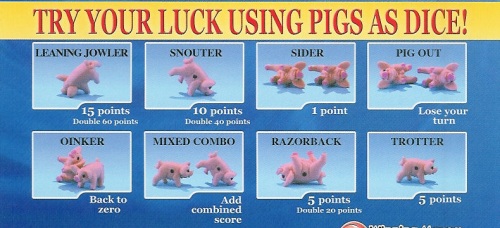 User Requested Games
Games added that were user requested are marked below with: {G}
Request a game >

Recently Released Games
{G} Age of War
Fantasy Flight Games | 2014
{G} DICEcapades! (Second Edition)
Haywire Group | 2014
{G} Marvel Dice Masters: Uncanny X-Men
WizKids | 2014
{G} Pandemic: The Cure
Z-Man Games | 2014
{G} Castle Dice
Fun to 11 | 2013
{G} Dino Hunt Dice
Steve Jackson Games | 2012
{G} Devil's Dice
Mongoose Publishing | 2012
{G} Pass the Pigs
Milton Bradley, Winning Moves Games | 2008
{G} Inn-Fighting: D&D Brawl Dice Game
Wizards of the Coast | 2007
Dungeon Dice
Parker Brothers | 1977


Upcoming Games
{G} Luchador! Mexican Wrestling Dice (Second Edition)
Backspindle Games Ltd., Game Salute | 2014 Q4 (11-28-14)
{G} Steampunk Rally
Roxley Game Laboratory | 2015 Q3 (08-August)