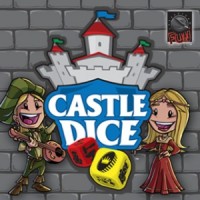 Castle Dice
Roll tons of custom molded dice and build castles in this massive Euro-style game featuring light worker placement and dice drafting.
Your kingly father (the king) has sent you and your siblings each off in a different direction to build a successful castle in the barbarian infested region at the edge of the empire. Whoever does the best job becomes the successor to the throne. Will it be you?
Castle Dice is the dice drafting, worker placement, big box game of castle building in a barbarian infested frontier land for 2-4 players. The game also features an engaging solitaire version for expanded playing options. To win, you'll have to plan well, make good tactical decisions, hire workers and out maneuver your opponents in gathering the correct resources to complete upgrades to your castle all while holding back barbarians raids.
Or to put another way... Castle Dice is a Euro-style game with a ton of custom dice, lots of tactical and strategic choices, a strong focus on drafting resources, and a fast paced turn sequence that allows an entire game to be played in about 45 minutes.
Add a Review for "Castle Dice"