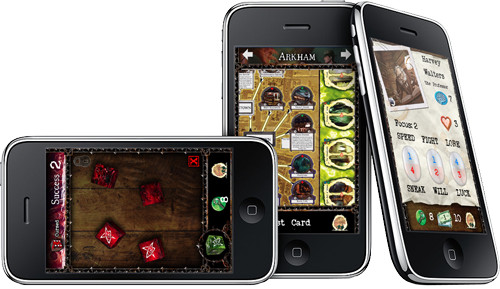 Being an owner of an iPhone, I'm always excited to see new board game related apps. Fantasy Flight's new iPhone app for Arkham Horror, the Arkham Horror Toolkit, is one of the best I've seen yet. It isn't the full game, but it's the next best thing. A constant companion to streamline your gameplay.
The app has four main features:
– Choosing and tracking your character stats
– Rolling dice
– Viewing the city map
– Randomly drawing event cards
Currently going for $2.99, this is a must buy. You'll get your money's worth from the dice feature alone. Especially considering it is a third the cost of the Arkham Horror Dice Set (though the physical dice are quite a nice addition).
When you purchase the app you'll get the characters, maps and event cards for the base game. Not to worry though, because if you've purchased an expansion, the toolkit has in-app purchases to add the other expansions to it. These range in price from $0.99 to $1.99.
My favorite feature is being able to just click on the city or other world location and have the app randomly give me an event. I would love to see them add Mythos cards… and with a long history of creating quality products, I wouldn't be surprised if they did.
Click here to learn more about the awesome features.
App store link: Arkham Horror Toolkit