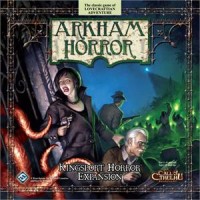 Arkham Horror: Kingsport Horror
Return once more to H.P. Lovecraft's vision of New England, this time to explore the dream-haunted shores of misty Kingsport, a city where the dimensional barriers are at their thinnest. This place also has powerful guardians, so perhaps the investigators will find someone — or something — willing to help them in their battle against the Ancient One.
The town of Kingsport, on a new board with new rules and locations
8 new investigators with powerful new abilities
4 new Ancient Ones to struggle futilely against
New protective elements in the form of Guardians
2 new Herald sheets
20 new monster markers, over 300 new cards, and the deadly Epic Battle cards!
Add a Review for "Arkham Horror: Kingsport Horror"