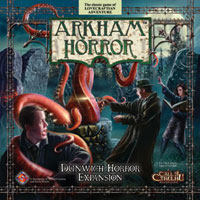 Arkham Horror: The Dunwich Horror
The supernatural disturbances that plague Arkham, Massachussets, are not limited to that unfortunate place. The town of Dunwich is only a short train ride from Arkham, and if anything it is a darker, more frightening place, with its own secrets and its own perils. It looks like the investigators are going to have to protect two towns now instead of just one; if they ignore the dark forces that are stirring in Dunwich, they'll have to face the wrath of the Dunwich Horror ...
Dunwich Horror is an expansion to Arkham Horror, complete with an extra board and the entire town of Dunwich - accessible via train from Arkham. There are plenty of new rules and new components, usable either with or without the Dunwich board addition.
Features include:
The town of Dunwich, on a new board with new locations and new rules!
8 new investigators with their own reasons for saving the world.
4 new Ancient Ones to desperately struggle against.
New Injury and Madness cards for particularly unfortunate investigators.
New game concepts, such as Gate Bursts and the Dunwich Horror itself!
Over 20 new monster tokens, dozens of new items and skills, new encounters - over 300 new cards in all!
Add a Review for "Arkham Horror: The Dunwich Horror"