Hey there, I'm Andrew; game industry professional, reviewer, gamer, fellow Boardgaming.com member and the host of BoardGaming.com's discussion series called "Your Turn."
This is your chance to let us know what YOU think about a variety of topics related to hobby gaming. I'll start the conversation and then it's "your turn" to chime in and add to the discussion. Each Your Turn discussion will have a new topic, and we may even have some special guests make a surprise visit down the road. In the meantime…
Minis and Megabytes
I recently had the pleasure of attending the Origins Game Fair in Columbus Ohio and played many great (and some not so great) games. Did any of you BG.com fans go? I was sporting my BG.com T-shirt!
Anyway, my 15 yr. old and I attended and I introduced him to a game that I had played in the 80s called BattleTech. It's been revamped a bit but really it's the same game that Jordan Weisman introduced to the world back in 1985. Giant robots, gotta love 'em. We also played in the BattleTech simulator pods outside the exhibit hall, (Which Jordan Weisman also created). This is a full on sit-in-the-cockpit simulation of Mech warfare. Still cool 20 years later. So, needless to say BattleTech has held up well for the past 30 years since.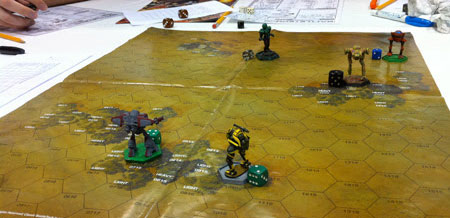 My son loved both iterations. For the miniature game, he caught on to the rules quickly and loved the fact there was a small illustration of the Mech that you marked up as you took hits to your armor and your internal structure. It's all about climactic die rolls. He blew my Mech's arm off! Sheesh, beginners luck.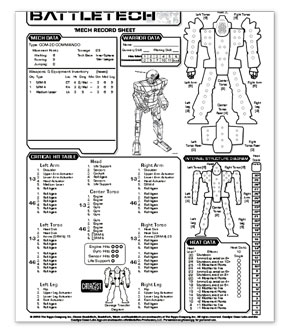 One primary attribute of this game (and many games from the 70s and 80s) are the use of TABLES. No, not coffee tables or Chic Geek Tables… actual charts and tables. They seem to have passed out of style with the advent of another Jordan Weisman creation – Mage Knight/HeroClix in 2000. Here, Weisman believed that if you placed all the info you needed to know on the figure itself you could do away with charts and tables. That brings us to the latest creation by Mr. Weisman: Golem Arcana.
For those who don't know, this is a miniature warfare game that uses amazing looking miniatures and a vast and deep intellectual property, along with an iPad and a stylus pen to move, attack, record damage, and so forth. The unique thing about this game is you touch the stylus pen to the figure's base, then touch the base of the unit you wish to attack, and the interface calculates all the attack and defense values, movement and terrain bonuses and so forth. And in one click, it illustrates the attack on the iPad… boom! you turn is done. No books, no charts, no tables. Astounding. Well, sort of.
You see, my son and I enjoyed Golem Arcana, (and I won this time!) and I can see this game being successful in some circles. It combines the world of table top miniature games with a computer interface, storage capacity and graphics of a video game. But as a board game, we enjoyed playing Jordan's 30 year old BattleTech game more. Rolling a pair of d6 on several charts to see if you hit your enemy Mech, then rolling on another chart for the hit location then again to see if it's a critical hit. It's all fiddly and fun. You feel in control. Conversely, for a computer BattleTech experience, we enjoyed the complete simulation that the BattleTech Pods offered. It made us feel we were actually in the driver's seat of a Mech – total bombardment of senses. Cool Joysticks and missile buttons, radar screens and pedals to rotate your Mech's torso. Awesome!
Somewhere in between these two experiences is Golem Arcana. Maybe this is the wave of the future, a blending of technology and board games. Many games use timers or sound effects now, but they still rely on the cardboard and plastic and usually dice to create the experience on the table. I feel like for all the good that the tech offers, it can never replace the hands on, dice rolling, klunky, head-scratching, pencil pushing fun of a good old table top mini game.
Even so, thanks Mr. Weisman for the years of fun and allowing my imagination to fly. And for letting me introduce that to my children. You're way cooler than I'll ever be.
Question: Is the combination of tech and board games the wave of the future? Or do you feel it takes anything away from the traditional board game experience? Does one compliment the other? Or should these two mediums, (cardboard and circuit board) stay separate in the world of Geek entertainment?
Your Turn…