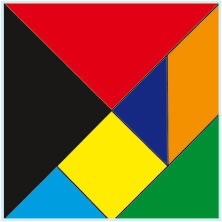 Demoing Mage Knight
The day started off with a demo of Mage Knight by WizKids. It's a very deep game, so my 30 or so minutes with it were just a taste. I felt as if I was playing a modern fantasy RPG video game, but in board game format. It's a game from 1-4 players, each taking on the role of a hero on a quest to explore a world in search of a city. Your skills and abilities improve as your progress through the game. There is a day and knight cycle which affects gameplay.
One of the most intriguing mechanics was your ability to perform good or evil actions that would affect how the game played for you. Killing a monster would give you a good reputation in the world, while taking over a castle by force would be evil. Being good or evil each came with benefits and weaknesses. I would have liked to play through an entire game to see how much affect this had on gameplay.
Flash Point: Fire Rescue – The highlight of the show
Later we got to demo Flash Point: Fire Rescue by Indie Board & Cards which was the highlight of the show for me. Pandemic has been a family favorite, and was the game that got me hooked on cooperative games. Finally we've got another game with a similar feel, but in my opinion much more appealing to a larger crowd.
Each player takes the role of a fireman, firewoman or other rescue specialist. You're confronted with a burning building that is destined to collapse, with the goal of finding and rescuing civilians before it's too late.
I especially like that your roles don't force you to play a certain way during the game. Flash Point gives each player a set of similar actions to perform, with the unique abilities feeling more like bonuses to playing that role. Also, you can switch roles throughout the game, based on the situations you are faced with!
If you like cooperative games, this is a must buy! It is fun to play with other adults, and would be equally as fun with the whole family. With so many games about fantasy and war, it's great to see a game that lets you take on the role of everyday heroes! Pre-order this puppy, I have! It comes out late november.
Demoing Discworld
The day ended with us playing Discworld: Ankh-Morpork, by Treefrog Games. I hadn't read any of Sir Terry Pratchett's books, but after playing this game, I'm definitely going to get my hands on a book to experience more of this fun and unique world he's created.
The game was full of twists and unexpected turns that kept you on your toes the whole time. The mechanics were also very easy to learn, allowing you to enjoy the rich artwork and fun play style. I'll let you visit the game page to get the details about the game. I saw the deluxe version, it was a definite buy for die-hard fans. I unfortunately didn't take a photo.
I did forget to mention that we bought a game called Casa Grande by Ravensburger on day one, and have been having a lot of fun with it. It's a game where you earn money buy building formations. The higher you build, the more you make. Check out the photo gallery below to see what it looks like.
Final Thoughts
Spiel 2011 was a wild ride! It was awesome to see how popular board games are in Europe! If I had to choose between Gen Con and Spiel, I'd choose Gen Con. Spiel was more about seeing and buying, where Gen Con was more about demoing and playing. In the end, I'd suggest going to whichever of the two you live near, so you can spend more money on games, and less on travel!
Check out our photos of Spiel 2011! – Image Gallery
If you were able to attend Spiel, we'd love to hear your impressions and game highlights in the comments below!