The traditional Twelve Days of Christmas start on Christmas Day, December 25th, and continue through Twelfth Night, January 5th. This holiday season concludes with Twelfth Night, so take your Christmas decorations down, and eat any parts of the wreath that are edible, per tradition!
On the Twelfth Day of Christmas, BGdot gave to me:
Twelve Munchkin versions,
Eleven Essen titles,
Ten decks a-building,
Nine 'starters Kicking,
Eight games a-warring,
Seven nifty minis,
Six movie tie-ins,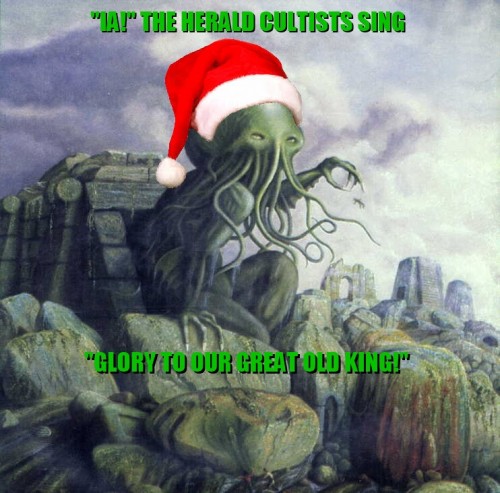 Four CCGs,
Three for the kids,
Two Flying Frogs, and
A new game by Asmodee-eeeeeeeEEEEEEEE!*
On behalf of Boardgaming.com, we hope you have enjoyed our Holiday Game Updates series! We are looking forward to bringing the users exciting new content and more regular game updates throughout 2015!

User Requested Games
Games added that were user requested are marked below with: {G}
Request a game >
{G} – Munchkin Adventure Time
Steve Jackson Games, USAopoly | 2014
{G} – Munchkin Axe Cop
Steve Jackson Games | 2011
Munchkin Zombies 2: Armed and Dangerous
Steve Jackson Games | 2011
{G} – Munchkin Quest 2: Looking for Trouble
Steve Jackson Games | 2009
Munchkin Cthulhu 2: Call of Cowthulhu
Steve Jackson Games | 2007
{G} – The Good, the Bad, and the Munchkin
Steve Jackson Games | 2007
Super Munchkin 2: The Narrow S Cape
Steve Jackson Games | 2006
{G} – Munchkin 4: The Need for Steed
Steve Jackson Games | 2005
Star Munchkin 2: The Clown Wars
Steve Jackson Games | 2004
Munchkin 3: Clerical Errors
Steve Jackson Games | 2003
Munchkin Fu
Steve Jackson Games | 2003
{G} – Munchkin 2: Unnatural Axe
Steve Jackson Games | 2002