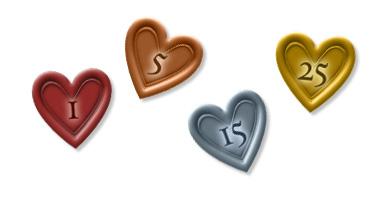 We've expanded on the hearting feature to allow giving hearts in bundles! Below are details about the new feature and hearting quests, as well as some info about how this affects other aspects of the site.
Types of Hearts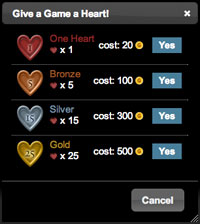 When you click on the "Heart It" button on a game page, a pop-up selection will appear giving you four heart bundles to choose from:
Single Heart – Gives a game one heart
Bronze Heart – Gives a game 5 hearts
Silver Heart – Gives a game 15 hearts
Gold Heart – Gives a game 25 hearts
Daily Hearting Limit
Where before your daily hearting limit (+1 per Gamer Level) was based on individual hearts, it is now based on heart bundles. Each bundle counts as one towards your daily hearting limit.
For example, if your limit is five a day, you could give three single hearts, one gold heart and one silver heart.
Goals Behind This Feature Update
Give gamers the ability to give even more hearts to their favorite games.
Members of the site that buy gems so that they can give more hearts will not only be supporting their favorite games, but will also be supporting BoardGaming.com and helping us continue to make this site better!
New Hearting Quests


The Bronze Heart
Give 10 Bronze Hearts to games that you like.



The Silver Heart
Give 10 Silver Hearts to games that you like.



The Gold Heart
Give 10 Gold Hearts to games that you like.

Possible Concerns
Q: Won't this new feature allow a person to "buy XP"?
A: Though it is now possible to complete the original hearting quests more quickly, it doesn't create a loophole allowing a user to purchase XP indefinitely.
Game Popularity
A bit of technical info for those interested:
The weighting of the hearting on the overall popularity score for our Top 10 list has been reduced. Hearting is still a good way to influence that ranking.
The Top 10 "Popular" widget on the home page now refreshes once an hour (instead of once every 12 hours). Also, giving a bronze, silver, or gold heart will refresh the list.
We hope you enjoy this new update. Thank you for supporting your favorite games, and thank you for supporting BoardGaming.com!