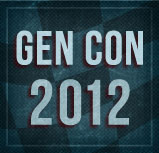 What an experience Gen Con was this year!
After some discussions with Gen Con earlier in the year we had the amazing opportunity to have a booth at Gen Con. We had no idea what was in store, but we were excited!

Virtual rewards for gaming in the real world
The main goal we had this year was to work on our system for giving rewards on the site for real life activities. You could gain Gamer and Explorer XP for demoing select games in the exhibit hall as well as gain Gamer and Competitor XP for participating and/or placing 1st, 2nd or 3rd in select tournaments. You could also get rewarded for participating in the quests that a company called Cheese Weasel had going on, which guided you through the exhibit hall and emphasized learning about some of the smaller publishers.
Only a select group of companies were invited to participate, and we had some big names like AEG, Cryptozoic and Asmodee to name a few. It was an absolute success!! We're very excited to take what we've learned and improve the system we have in place, and launch some very cool things in the future.
A new class under developement
Wait… did I just say Competitor XP? We have a new class under development. We're talking with publishers and local retailers and are very excited about the possibilities this new class could bring!
Your local game store
We've also made the decision to pull discount online retailers from our site and focus on local retailers. We want to be a positive force in the board game industry and felt that this was the right move to make. We're now working closely with local retailers and publishers to create new and innovative ways to bring these communities together.
Photos of Gen Con 2012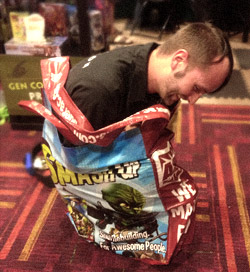 If you'd like to see photos of our experience, check out our Gen Con 2012 photo album on our facebook page.
Because we were so busy at the convention, our photos are mostly of us at our booth and our exhibitor next to us that created a 15 foot tall fire breathing dragon out of balloons!
A special thanks
We have to include a special thanks to Gen Con for giving us this opportunity. We also need to thank all of our prize sponsors and Gen Con Quest participants!