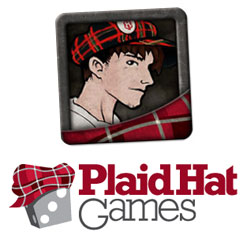 Hi everyone, I'm Colby Dauch. I've done work on Heroscape, Battleship Galaxies, Summoner Wars, City of Remnants, Mice and Mystics and more. I'm also the president at Plaid Hat Games.
Today I want to talk about barriers that lie between board games and people having fun playing board games.
The term "gamer," though historically referring to those who played tabletop games, is now a title that most commonly belongs to players of video games; and rightfully so.  "Play" used to be something mostly reserved for children.  Moving out of an agrarian society has generated more free time for adults and play has become an accepted mainstream form of entertainment and at the center of that lays video games.
The word "geek" used to be ammunition in the bully's arsenal.  Now we have made it ours and wear it with pride.  I believe video games paved the way for that.
So geeky is no longer a bad word.  But even those not proclaiming themselves geeks are playing video games.  Games are ever-present and widespread since the invention of the smart phone.  Everyone plays them.  My mom plays video games.  With geeks and games becoming an accepted part of our culture, the increasing popularity of tabletop games is no surprise. I believe the cross over between people who enjoy video games (even the casual Farmville player) and people who would enjoy board games is much, much larger than the splash over we are currently experiencing.
The problem with bringing "gamers" into tabletop gaming, to discover and enjoy the unique things it has to offer, is that while video games have lowered the barriers to play to be near non-existent, board games haven't. Below is a list of barriers that stand between tabletop games and an audience of people who would enjoy them, as well as some of my solutions.
Barrier: Rules
Game rules are by their very nature a sort of technical manual.  This is an intimidating or downright insurmountable barrier for some.
Solution: As a publisher we have begun doing how to play videos for all of the games we release.  Wil Wheaton's Tabletop and Rodney Smith's Watch it Played YouTube series show full play-throughs of games.  And game stores that provide demo copies of games and knowledgeable staff that can teach them is another way of lowering that barrier.
Barrier: Stage Fright
People are afraid of looking dumb.  They are afraid they are going to get into a game, it is going to be over their head, and they aren't going to know what to do.
Solution: When introducing new players to games, choose a game with easy to learn rules.  Summoner Wars is a good candidate from our line-up.  Also, try not to turn into a power gamer and go hyper competitive. Crushing them into dust isn't likely to result in their having a good time.
Barrier: Cost
Someone new to hobby games has the perception that board games cost $20, because that's what a mass market party game costs.
Solution: Education. As people understand the differences in time spent on these games, materials used, and the economics of much smaller print runs they'll come to understand why the price tag differs from that of the mass market game.
Barrier: Exposure
Even the biggest tabletop publishers don't reach all the way out to the mainstream with their marketing efforts.
Solution: Social media has definitely played a part in the growth of hobby games.  Getting out there and talking about your epic game session is going to cause some of your friends call you a nerd.  Others will be intrigued. Quintin Smith of shutupandsitdown.com has an excellent video called An Intro to Board Gaming, For Your Friends.
Barrier: Attention Span
Just because someone enjoys playing Angry Birds on their phone for 5 minutes at a time doesn't mean they want to sit down and play a 2 hour game of Puerto Rico with you.
Solution: This could be about choosing the right game.  There are some really fun really light and short games out there.  Even though they might not be your favorite, breaking one out at a family get together can be more entertaining than some of your other Christmas at the in-laws options.  And they can be gateways into greater interest in tabletop games for some.
So my question to you is what barriers do you see in tabletop games? What are some solutions you've found or can dream up for the barriers presented here today?
Your turn…