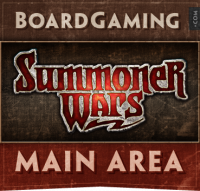 Summoner Wars
Summoner Wars is the exciting card game of fantastic battlefield combat that puts you in the grandiose role of a Summoner.
Strategy shapes the composition of each deck of cards and how they are used. Tactics determine the effectiveness of those cards in battle. Call walls of stone to protect you in combat and serve as magic portals for you to summon your warriors. Call your forces forth and send them in a surging wave against your enemy. Cast spells that bolster your forces and cut down those who would oppose you.
With 16 different customizable factions, the strategies and tactics are endless!
Add a Review for "Summoner Wars"