We're very excited to announce another fun feature for BoardGaming.com … Local Game Store pages!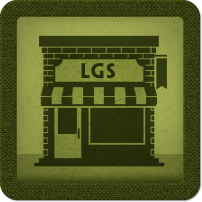 One of our goals has been to figure out a way to support Local Games Stores. After all, going to your Local Game Store (LGS) is a great way to discover new games to play. Not only that, but supporting your LGS helps support the board gaming industry as a whole.
If you've been with us from the beginning, you have seen boardgaming.com evolve. Our LGS pages are a big stage in that evolution. How this feature continues to evolve will depend a lot on you, your feedback, and how much you end up liking and using the LGS pages.
So… let's get started!
1. Use our new Store Locator page to find your LGS.
You probably spotted the new "Stores" tab in the main nav. For now, this will take you to the store locator page.
Right off, you will notice that your store is probably not listed. But, there is a link to add a store on that page. While we are in the early testing phase, we're only going to allow users who are Gamer Level 6+ to add stores. Later, we would like to open that up to all users.
Update 3/17/14 – Gamer Level requirement to add games is now 4+
2. Mark a store as your favorite.
For now you can mark up to two stores as your favorite. These stores will be included as quick links in the sidebar. Plus, there may be future quests related to being loyal to your favorite LGS.
3. Use the comments on the LGS page for … whatever makes sense.
Maybe you'd like to share what you like about the store. Maybe there's an event coming up that you'd like to let the community know about. Maybe you just played an epic game at the store and want to share the highlights!
Like game tips and discussion pages, we may create categories for different types of comments.
4. Follow a store.
Following a store will allow you to get notifications when users add comments. We're considering setting up email notifications for LGS pages as well.
New Local Game Store Quests!
You can also find these quests on the Reporter Quests page.

Choose Your Favorites
Find your favorite local store on our Store Locator page (or add it if it's not there) and select it as your favorite.



Follow a Local Store
On a local store's page click "follow" to start following that store and you'll receive notifications when new comments are posted.


Comment on the community board
Add a comment on your favorite local game store page to tell people what you like about your LGS.

Feedback
Please share your feedback in the comments below.
What do you like about this feature?
What would make this feature even better?
What quests would you like to see related to local game stores?
Did you find any errors or bugs?
FAQs
We'll update this area as the questions and comments roll in.
Q.1. How do we update the Store Logo?
Logos are usually protected by intellectual property rights, so we will need to work directly with the store owners to be able to use their logos. We're hoping that we'll be able to create store badges using logos, similar to what we've been doing with game art in cooperation with game publishers.
Q.2. What about photos of the Store?
That is another thing we would like to add, in cooperation with the store owners.
Q.3. A calendar of events would be cool
Yes, indeed it would. Something to consider for the future.
Q.4. Does hearting a store do anything right now?
Besides showing your love for your store, not yet. We would like to work this into future store quests, though.
Q.5. What types of store quests do you have in mind?
In 2012, we tested a system at Gen Con for giving people online rewards for demoing games at booths and playing in tournaments. It worked there, but the logistics of doing something similar with stores around the country (world?) is something we'll just have to experiment with. We're hoping to create a system where going to a store, demoing a game at a store, playing a game at a store, and of course buying a game at a store, could result in boardgaming.com rewards and quest achievements.
Q.6. Regarding the Store Finder …
Quite a few suggestions have revolved around searching by state and/or country, displaying multiple stores on the map, etc. We hear you, and will try to work these suggestions into future updates.
Q.7. Will we be rewarded for recruiting a store to get involved?
We've thought a lot about that, and we would love to be able to do that, but besides getting a store owner/manager to use your invite URL, we don't have anything set up yet. You are more than welcome to offer ideas on this topic.