A haggling game with a fresh approach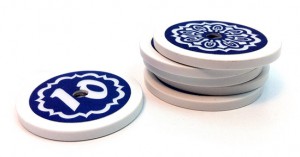 With so many games involving random dice rolls, Safranito's dexterity mechanic of throwing chips is both fresh and fun.
Safranito takes players to a spice market where each player is a chef trying to collect the necessary spices to create spice blends. The spices are limited, so competition is high.
What makes this game so fun and dynamic is that each player must throw chips (similar to poker chips) onto the board to determine costs for buying and selling spices. Your goal won't always be to get your chip into a spice bowl. Many times you'll find yourself aiming at other player's chips to knock them out of spaces! THEN you might find other players changing their strategy to one of revenge, knocking your chips off spaces as well 🙂
This all leads to fun and unpredictable strategies and gameplay.