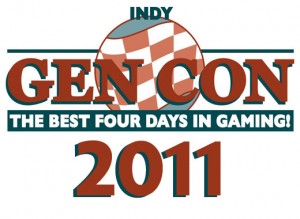 Our "loot" from Gen Con just arrived in the mail today! I've spent the afternoon getting these games up on the site (with exception to the prototype copy of NOIR).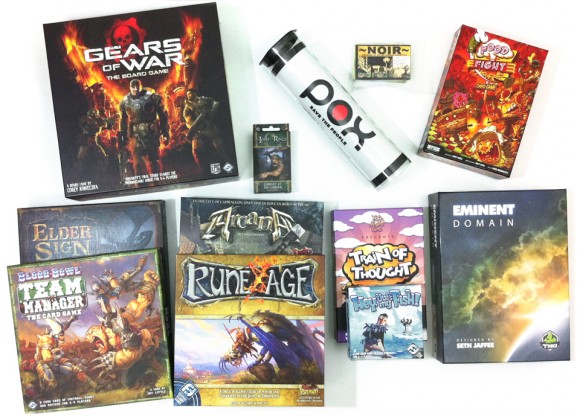 Too many new games from Fantasy Flight!
The Fantasy Flight Games were the first games I got. In fact, when we finally figured out where to get the lanyards for our badges, the exhibit hall had opened so I went straight to the FFG booth, picked up the games, and stood in the purchase line for a good 45 minutes. It turned out to be a good move because Elder Sign and Blood Bowl: Team Manager – The Card Game sold out later that day.
Meeting TMG's founder
Jon met Michael Mindes, the founder of Tasty Minstrel Games, and ended up picking up a copy Eminent Domain and Train of Thought.
FOOOOD FIGHT!!!
In the exhibit hall, as I passed the Cryptozoic Entertainment booth, I saw everyone sitting at picnic tables playing a hilarious game called Food Fight, so I had to pick up a copy. We played it later that night and had a good laugh. Here is the picnic table area…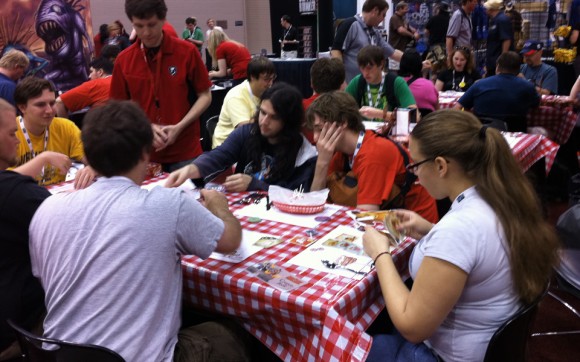 Local Indie developer
How did I get a copy of a prototype game you may ask… Well, we met up with game developer D. Brad Talton Jr. of Level 99 Games, who happens to live near us in Albuquerque, New Mexico. He showed us some of his iPad apps, which were very impressive, and NOIR: Killer vs. Inspector ended up making it into the app store before it got printed in physical form. He then graciously gave us a copy of the prototype, which we will treasure!
And finally, the hidden gem I found at Gen Con…
POX: Save the People. I'll be writing a full article about this game and the company behind it, because I was very impressed with their unique game concepts and overall mission as a company. After demoing the game, learning about its concept and the company's mission, I was hooked. I'll admit, I played it with Greg, our amazing illustrator, on the flight home and we lost all 3 times! Check out the POX game page to learn more about it.
It's going to take awhile for me to soak all these games in. Until I write more about them, check out the game pages I uploaded. I found a great video for Blood Bowl, so check that out. Also check out FFG's video about Rune Age.
If you have any specific questions about these games, post them below in the comments, and I'll try to get to them as soon as I can.
Happy Gaming 🙂