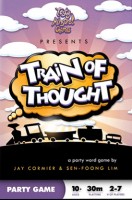 Train of Thought
Train of Thought is the word game designed for intelligent parties. Get your friends to guess the destination word, giving only a 3 word clue! Your friends will get one guess each, and when they fail to get your word, you will make a new clue using one of their words. Get your friends on your Train of Thought!
Get as many points as you can in 2 minutes for correct guesses and successful cluing. Play as individuals or as a team, but make sure that you play!
Add a Review for "Train of Thought"