Dynamic leaderboards
Now you can see where you rank, in addition to the top ten.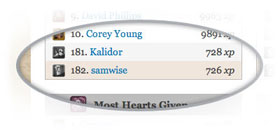 The leaderboards now show your rank and stats as well as the stats for the rank above yours (so you know what you need to get to move up). If you're already in the top 10, it will just highlight your position.
Note that people CAN be tied for the same rank.


I Played This!
Now you can choose the date you played the game.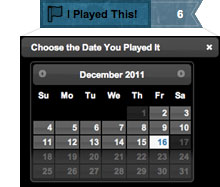 The "I Played This!" button will now pop up a date picker. Now you have a two-week window to log your plays. The amount of plays you are allowed to log each day is still limited by your gamer level.
What is being done with the data?
Besides showing the number of times you've played the game on your profile page's "Played" shelf, the data is aggregated and affects the popularity score. To see recently played games, you can use the widget on the home page and click on the Played tab and select Week.
Chrome users: If the button isn't working, clearing your cache should fix it. (you should only have to clear your cache once)