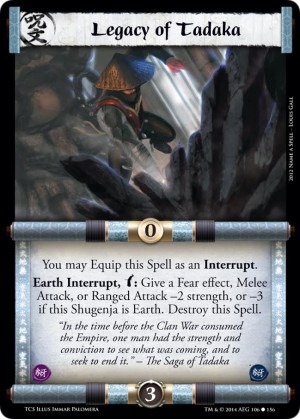 Legacy of Tadaka
Our first look at a Spell from The Coming Storm here at BoardGaming.com, and it is certainly an interesting one. Legacy of Tadaka has a trait that allows it to be attached as an Interrupt, right before another action is about to resolve. Then you'll get the opportunity to use its own Interrupt ability, possibly putting a major hiccup in the well laid plans of your opponent.
Thankfully, this potentially powerful ability is tempered with the Spell destroying itself when its Interrupt is used. Usually this kind of ability is found on a Strategy card, but having it on a Spell is really very interesting to see. There has been a lot of concern that the simplicity of Ivory Edition may limit the range of cards that can be designed, but Legacy of Tadaka shows us nothing could be further from the truth and the the future of Legend of the Five Rings is dynamic and deeper than we might think.
Check out our preview of another card from L5R: The Coming Storm next wednesday!