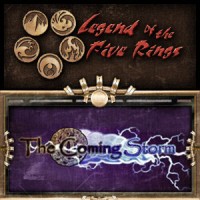 Legend of the Five Rings – The Coming Storm
In the distant Colonies of the Emerald Empire of Rokugan, the arrival of the eldest Imperial heir, Iweko Seiken, has thrown the normal hierarchy into disarray. Samurai of the Great Clans are torn between their allegiance to clan, Governor, and the heir, and it seems certain that there are those who will exploit the situation for their own ends.
None can be certain what the future holds, but one thing is unquestionable: a storm is coming.
The Coming Storm is the first expansion following the highly anticipated Ivory Edition, the new base set for the fan favorite Legend of the Five Rings. Featuring 16 cards booster packs, it reinforces the emphasis placed on draft with Ivory and pushes it further with the release of the Draft Tournament Kit.
As the shakers and movers of the Empire begin their deadly political dance, loyalties and allegiances will be tested. Who will weather the storm the best?
First expansion in the Ivory Edition Arc.
Special focus on the draft environment with a dedicated Brick and Mortar exclusive product, the L5R Draft Tournament Kit, suited for up to 8 players.
Art that brings landscapes and characters to life from renowned artists such as Jason Engle, Chris Ostrowski, and Adam Schumpert.
Add a Review for "Legend of the Five Rings – The Coming Storm"