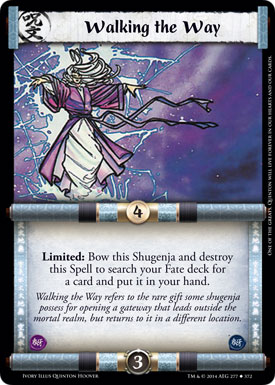 Walking the Way
A reprint from the very beginning of the game, Walking the Way has been a staple of Shugenja decks since Imperial Edition. The ability to tutor out any card from your Fate deck has always been very powerful, but that's not what should be the focus of this printing.
Returning for Ivory Edition is Quinton Hoover's original artwork for the card. As many may know, the CCG community lost Quinton earlier in 2013. It is really great to honor all his work on the early L5R sets by choosing to reuse this art for the card, and give a nod to Quinton's great contribution to the CCG genre in general with the credit on the side of the card. Rest in peace, Quinton.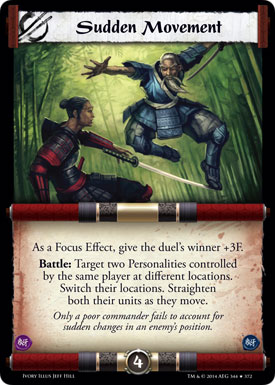 Sudden Movement
Also returning in Ivory Edition is this versatile card from The Shadow's Embrace expansion of the Emperor arc. A great little package of movement, straighten and an added Focus Effect, Sudden Movement gives us options.
Useful proactively to harpoon in your opponent's vulnerable units while removing their threats from the current battle, or as protection against bow by returning your unit to the battle fresh and ready to fight, this card will likely be an all-star early in the arc.
Make sure and check out our final preview of two new Ivory Edition cards on January 8th!