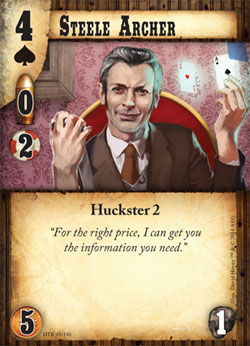 Steele Archer
In Doomtown: Reloaded, the key to surviving is keeping Influence in the town. By maintaining a high amount, you slow your opponent's ability to win.
Steele Archer brings an impressive 2 Influence to the table for only 5 ghost rock. Not only that, but he's a Huckster, one of the mystical card players who can cast hexes. He'll find an easy fit in any deck that plans to focus on Hexes, and could be a solid choice for decks that find themselves bullet strong but Influence shy.
Doomtown: Reloaded by AEG is scheduled for release in August of this year! Check out AEG's official site to learn more about the game and stay up to date with the latest Doomtown news.
Doomtown: Reloaded game page on BoardGaming.com >
Doomtown: Reloaded official site >