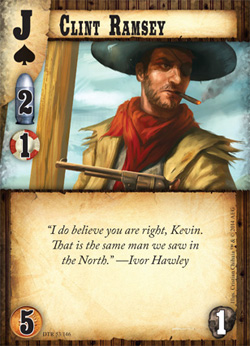 Clint Ramsey
Drifters are just that, hired guns and others who move from town to town in search of work. They don't have a place to call home, and as such they'll usually take pay from anyone willing to hire. Clint Ramsey is one of those.
As a 2 stud, he's a solid gunslinger, and can add some punch to decks that might need more aggressive characters. His one ghost rock upkeep isn't too bad, though there may come times when keeping him on the payroll could be a tough choice. He seems to have a history with the circus, or at least the circus seems to know him, which could lead to some… interesting… events in the near future.
Doomtown: Reloaded by AEG is scheduled for release in August of this year! Check out AEG's official site to learn more about the game and stay up to date with the latest Doomtown news.
Doomtown: Reloaded game page on BoardGaming.com >
Doomtown: Reloaded official site >