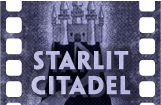 While you can read a lot about board games, one of the most effective ways to see what the game is really like is to watch a video review. Starlit Citadel has a huge collection of video reviews that continues to grow. The review series is hosted by Joanna Gaskell and Kaja Sadowski. Each video features a quick walk-through of a round of the game, and then Joanna and Kaja's opinions and recommendations.
Here is an example of one of their reviews, this one being for Star Wars: X-Wing Miniatures Game:
To help make these videos easily accessible while browsing BoardGaming.com, we've added them to our game pages. You can find the videos on the game pages under the "Videos" tab next to the "Publisher Overview" tab.
New videos are released 2-3 times a month, and over 70 videos have released since Starlit Citadel Reviews began in late 2011. The series is produced by Starlit Citadel, an online board game retailer based in Vancouver, Canada. Starlit Citadel has over 2000 items in stock at discount prices, and ships across the country and internationally. They also have a growing selection of used and out-of-print titles, for customers looking to track down a hard to find game, or sell off some of their overgrown collection.