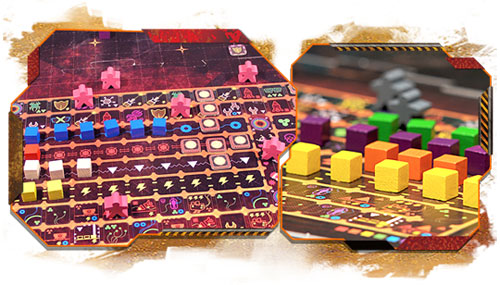 From the Publisher
In Septikon two players will take the role of owners of an orbital mining station and must fight brutal battles "tower defense" style. Imagine 
a turn-based game in the tower defense genre, where you must not only protect your property, but also send waves of attackers in your opponent's direction! By using diverse offensive and defensive measures and a loyal crew of clones, a player has to try everything to put his opponent out of action first.
Going International
Septikon was successfully published in Russia this year. Now the biggest Russian board game publisher, Hobby World, has launched it on Kickstarter as a first step for an international release of the game. Instead of the wooden meeples found in the Russian version, the international version will have plastic miniatures and there are also a lot of interesting stretch goals waiting for the KS supporters – unique heroes, R&D cards, nano-bombs and even aliens!
About Hobby World
Hobby World is one of the biggest Russian board games companies in business since 2001. They opened a U.S. subsidiary, Hobby World USA, LLC (based in Miami) in 2013 and ran their first Kickstarter project for a tactical card game called Berserk (which was successfully funded one month ago).
Septikon on kickstarter.com >
Septikon's Facebook page >
Septikon on BoardGaming.com >
Downloadable PDF presentation >