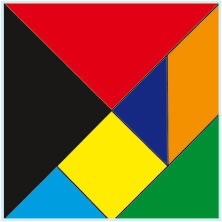 So today was twice as busy as yesterday! If you've been to Gen Con, imagine the entire conference center being one big exhibit hall full of booths. Then fill every table with people demoing games, and 5+ people standing around those games waiting to get their turn. That is SPIEL. Oh, and we can't forget the people playing demo copies on the floor as well!
I did manage to take photos of almost every game requested in yesterday's article. My own personal explorer quest! The only downside is that when you stand nearby a game to listen in, 80% of the time they're speaking in German, so I couldn't really give much of a take on the games. But I will be posting the photos I took later next week.
I did look for the Quarriors! expansion… they had a demo copy I couldn't get a good look at, but I did confirm that it will not be released at SPIEL 🙁 I did check out Mage Knight, and it looked pretty cool. The figures come pre-painted which was a nice touch. I'm going to go there first thing tomorrow morning to try and get a demo in. Ascension: Storm of Souls was still getting shipped, and should arrive tomorrow.
The highlight for me was spending a couple hours with a demo deck of Star Wars: The Card game! It is in some ways similar to Lord of the Rings: The Card Game in that it is 1-4 players, cooperative, and has multi-staged scenarios that you battle through. My initial impression of the game is that it is NOT easy, you will win by the skin of your teeth, or loose horribly as destroyers take down your entire fleet! The rules weren't finalized, and at times I felt it was a bit weighted in the Imperial side. But I think it will turn out to be an absolute hit since Fantasy Flight Games has done an excellent job with LOTR: The Card Game. It will also be a Living Card game so you can look forward to a fully supported game with many expansions full of new adventures, enemies and heroes!
Tomorrow will be our last day at the game fair, so we're turning in to rest up.