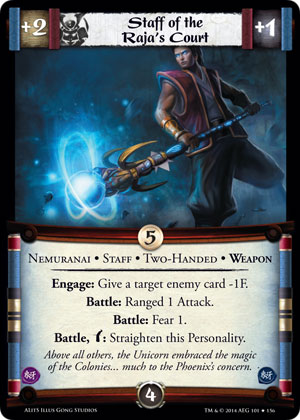 Staff of the Raja's Court
This week we get to preview a new Two-Handed Weapon card that brings with it a multitude of options. By themselves, none of the actions are exciting, but when you can combine the Ranged and Fear attacks with other cards, as well as the other two utility abilities, the Staff quickly shows it's value.
Of particular interest is the flavor text, where we find out the gaijin influences picked up in the Burning Sands are just the start of the Unicorn Clan's delving in to other forms of tradition not practiced in the Emerald Empire. Will they use these new mystical powers responsibly, or will they become a dangerous and uncontrollable force that Rokugan will have to deal with?
Learn more about the Legends of the Five Rings CCG >
Thanks for reading our previews for L5R: A Line in the Sand. Stay tuned for our next card preview on Wednesday, August 6th!