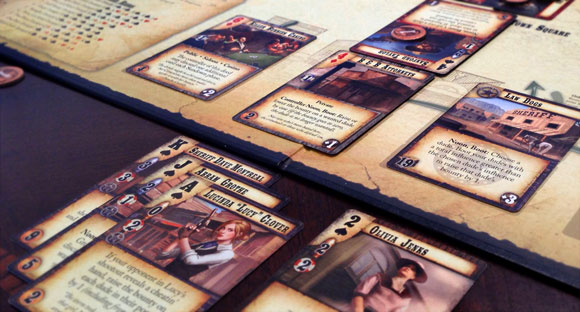 In Doomtown: Reloaded players take on the role of a western outfit and set out to control the town of Gomorra that's struck it rich with a unique resource called ghost rock. It's a game of balance between the control and influence you have in town. During High Noon, building more deeds will give you more control, where hiring more dudes in town will give you more influence. Want to lower your opponent's influence? Call out one of their dudes to have a shootout. You can chip away at their influence in town or even take control of their deeds.
Keeping with the theme of the wild west and poker, shootouts and other elements of the game will involve drawing from your decks to see who has the highest or lowest poker hand. Then at Sundown, if you have more control than your opponent's influence you win the game…

Doomtown Avatars Coming Soon!
Here's a sneak peek at some of the Doomtown avatars that you'll be able to customize your BoardGaming.com profile with!