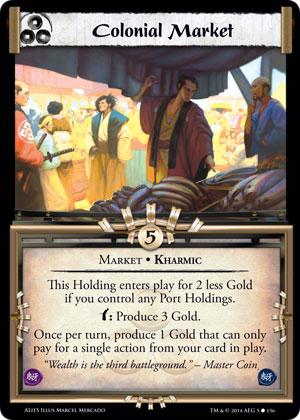 Colonial Market
Over the course of Legend of the Five Rings's history, Market themed Holdings have always interacted with Port themed ones. This trend continues in to Ivory Edition and A Line in the Sand with Colonial Market. At 5 Gold, the Market is hardly an example of efficiency, producing only 3 Gold when it bows, and maybe another 1 Gold each turn if you have a card in play to spend it on.
However, once you've managed to Recruit a Port Holding, then its efficiency balances out in favor of being a fantastic economic boost. Certainly a gamble for decks in an environment where a 5 Gold Holding cannot be bought on the first turn by the majority of Clans, finding the right balance of Ports in your deck to take advantage of the Colonial Market will be a deck building challenge for new and veteran players alike.
Learn more about the Legends of the Five Rings CCG >
Thanks for reading our previews for L5R: A Line in the Sand. Stay tuned for our next card preview on Wednesday, July 23rd!