As your game collection grows, it can start to take up a lot of room. The BITBOX is a great solution to start taking back that precious real estate!
The following is a preview of a prototype of BITBOX. The final product will be even better!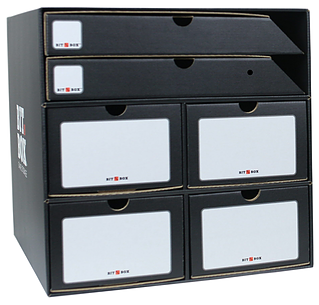 Overview
If you're like us, you've had to buy a shelf or two (or more!) to fit all those wonderful board games you've been collecting over the years. As my shelves have begun to fill up, I really wanted to avoid buying another shelf or being forced to thin out my collection. I was excited to see BITBOX show up on kickstarter, so I reached out to the folks at Game-Ovations and they were kind enough to send us a prototype to try out.
Putting it to the test
The quality of the BITBOX is top notch and extremely sturdy. The top two trays are meant for game boards and rulebooks. Then you have four pull-out trays where you can put the individual boxes for storing each game. The game boxes come in small, medium, large and extra-large sizes. They say you can fit 10-16 games in one BITBOX so I found a variety of games (large and small) to see how they would fit.
Below is a photo of what I was able to fit into one BITBOX. A total of nine games and three+ expansions. It's worth noting that each of those Zombicide boxes is jam packed with smaller expansions like extra zombie minis, add-on characters and additional game boards.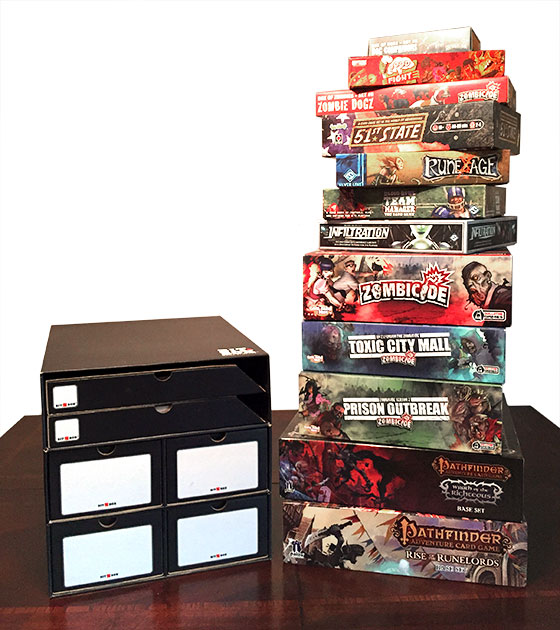 This next photo shows each individual box next to (or on top of) the original game box it came in. This way you can see how it all fit in.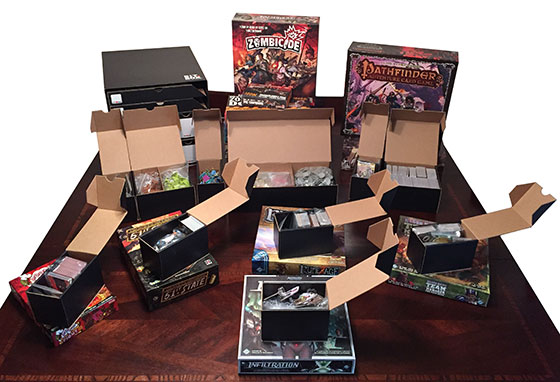 Final Thoughts
I'm very happy with the BITBOX and plan to get at least three more as well as their BITBOX Mobile (see below), which should free up an entire shelf for me. Below are a couple points to consider that I experienced while using the BITBOX.
Parting with the boxes: If you love displaying your games on the shelf like I do, choosing which game boxes to part with is probably the hardest part of using the BITBOX. But when your game storage space is overflowing, reality sets in and the BITBOX is worth every cent. Tip: I chose the games that I don't typically display front and center.
Other Tips
Saving the most space: I found that the BITBOX did its job the best with games that had the most empty space in the original game boxes. Card games tend to be the most common for having big boxes that act more as advertisements than efficient storage containers.
Label your newly organized games: Once you've got your games stored in the BITBOX, don't forget to label them so you can easily find them later. I plan to print out images of the box covers so they fit on the front of the BITBOX trays and on top of each individual game box so I know exactly where they're at for easy access.

Taking your games on the road: Game-Ovations' BITBOX Mobile is a perfect solution for traveling with your newly organized games that is way more efficient than taking a big stack of games in their original boxes. You can learn more on their kickstarter campaign page.
We weren't able to cover everything the BITBOX has to offer in this article (provided bags for components, box dividers, foam inserts, etc.), so we highly recommend you check out their kickstarter campaign.


{Backing ends August 24th, 10pm MDT}
Go now >