You may have noticed that shiny blue box on the front page on your way to this article and wondered what was going on. Well, BoardGaming.com is proud to introduce our new Featured Publisher program! Featured Publishers will receive a one-month spotlight on the site… but let's focus on what this means for users!
Some of the things you can expect to see when we have a Featured Publisher:
Publisher Explorables: publishers will be able to select five games they would like to increase awareness of via exploration. These Explorables will stay live for the entire month! We should expect that many of these may be under-explorable at first – after all, if a game is already so popular that it has 40 reviews, publishers probably don't need to go to lengths to promote it. But users will have a month to get content up for the games in order to finish exploration. There will be lots of extra eyeballs on these reviews and tips! (and don't worry… the Explorable Favorites will continue weekly!)
BoardGaming.com Reviews: Featured Publishers will get extra attention from us in the official review department. They will be able to dictate to us which games they feel could use an official site review, and we will get those reviews up during the month. If a given Publisher is not your favorite, know that we won't be exclusively reviewing their games for the entire month, just making sure we get to one of their games each week.

Free Publisher Badges: any badges associated with the Featured Publisher will only cost 1 BG Gold (almost free!) for BoardGaming.com users for the entire month! Show your support for your favorites by displaying them proudly!
Featured Article: we will work with the Publisher on a Featured Article to be published during the month. This could be a feature about a game they have coming up in the near future… or an article about their entire pipeline for the year… or a designer's journal of his/her experiences while crafting a classic…
More to come… we don't want to spill all of our beans here! Stay tuned!

Featured Publisher for March 2015
And with that, we're excited to announce our first Featured Publisher –
Smirk & Dagger Games!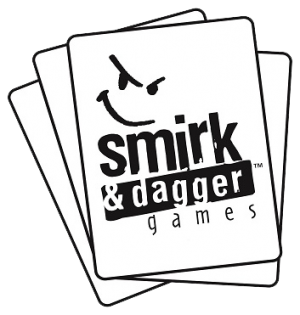 Known for the "take that" nature of titles such as Cutthroat Caverns and Student Bodies, games by Smirk & Dagger are the antithesis of cooperative. For the next month you'll get to delve into some of the best backstabbing games available. We hope you enjoy learning about their games, and are as excited as we are about this new feature!
Smirk & Dagger Reviews, Explorables and more >
(updated throughout the month)
See all Smirk & Dagger games >