Embers of War, the new set for the Legend of the Five Rings CCG, is right around the corner, and previews have already begun at www.l5r.com and on Clan websites. Today, Boardgaming.com gets to preview two exclusive new cards from the upcoming expansion!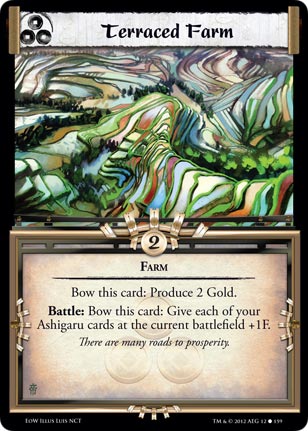 Terraced Farm
This is what we call a utility Holding. As a 2-for-2 (it costs 2 Gold, and produces 2 Gold), it's never going to form the backbone of a deck's economy. What makes it potentially valuable is therefore not its raw Gold production, but what it brings to the table in addition to the 2 Gold it can produce a turn, namely, its ability.
Farm Holdings in L5R have long been associated with Ashigaru (peasant-soldiers that form the rank and file of a Clan's army), and Terraced Farm is no exception. The strength of its ability varies immensely depending on the number of Ashigaru cards you have in play; if all it ever does is provide a +1 or +2F bonus, it might not be worth playing in the first place, but if you routinely find yourself with 4 or more Ashigaru cards in a battle, it quickly becomes very valuable.
There are currently three Ashigaru Followers in the Emperor format, and one of them is a Unique with an ability that mirrors that of Terraced Farm. The other two, however, produce free 0F and 1F Ashigaru Followers, and Ashigaru Recruits even produces two of those at once. That may not be enough to make Terraced Farm a powerhouse right now, but that could change once more Ashigaru cards start appearing.
Don't forget that Farm keyword, either. If the past is any indication, it might end up mattering a lot somewhere down the line, and might even make Terraced Farm worth playing without any Ashigaru in your deck.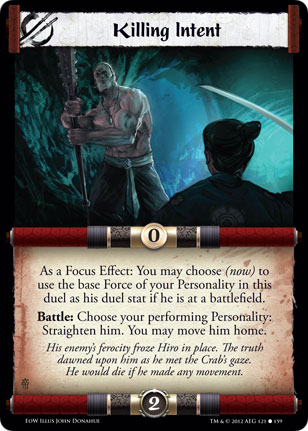 Killing Intent
It isn't the flashiest of cards. It's a Battle Strategy that doesn't destroy anything or let you deal with several enemy units at the same time. In fact, its ability won't let you deal with any enemy unit at all. Yet in the right situation, Killing Intent could prove one of the most valuable cards in your deck.
Decks that feature a lot of Personalities with a naturally high Force (say, Crab Berserkers or Oni out of The Forgotten Temple) tend to be vulnerable to duels, as their Personalities are often expensive and lacking in the Chi department, making duels all the more effective against them. Killing Intent provides those decks not only with a measure of protection against duels, but with a way to turn the tables on the duel player.
Unlike cards like The Duty of the Crab, though, Killing Intent is not automatically successful (nor does it work outside of battle, which can be very important against cards like Duel of Haiku). Unless your Personality has an abnormally high Force, he still runs the risk of losing the duel; in fact, a 6F Berserker is very likely to still lose a duel against a 4C Duelist after focusing Killing Intent, which means choosing when to use Killing Intent is going to be particularly crucial if you want it to be effective.
While the Battle action on Killing Intent is nothing spectacular, it is serviceable, and will ensure that the card never gets stuck in your hand, even against non-duelling decks. Tireless Efforts, which has a similar ability, has seen some play in Kotei-winning Kensai decks; if you fear duels, and your Personalities have the base Force to make it work, Killing Intent might be a more than suitable replacement.