Featured Publisher for May 2015
8th Summit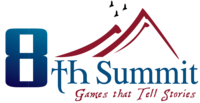 Georgia-based 8th Summit, led by its uber-creative founder Jason Maxwell, has built a diverse collection of games, covering a broad range from storytelling games to noir card games to party games to zombie miniatures. The one thing that binds them all? An extreme devotion to theme.
This month 8th Summit launches their most ambitious project to date – the Richard Launius designed Defenders of the Last Stand. In order to prepare you for the Kickstarter launch on May 14th, as well as familiarize you with 8th Summit's back catalog of greats just in time for reprints to hit retail, we'll be taking an in-depth look at their body of work throughout May!
Get your (practically) free 8th Summit badges here!
8th Summit Reviews, Explorables and more >
(updated throughout the month)