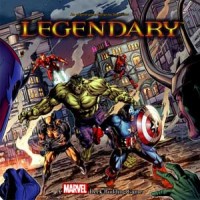 Legendary: A Marvel Deck Building Game
In Legendary, players take on the roles of Marvel heroes, including the Avengers and X-Men, and team up to defeat an evil Mastermind. The players have to defeat the likes of Magneto, Loki, Dr. Doom, or Red Skull to win the game - if they do, the players are ranked by the most Victory Points accumulated during play.
Over 500 cards with original artwork, full color game board & color rule book. Over the course of the game, players will recruit powerful hero cards to add to their deck in order to build a stronger and stronger deck of ultimate Marvel superhero combinations! Innovative "mastermind" mechanics allow the game to fight back against the players and if players are not careful, villainous Marvel masterminds like Magneto, Loki and Dr. Doom threaten to accomplish dark schemes and defeat all the players at once!
Add a Review for "Legendary: A Marvel Deck Building Game"