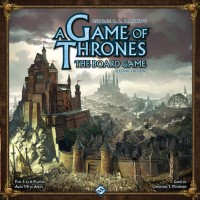 A Game of Thrones: The Board Game (2ed)

This game page, is for the newly released second edition
visit the first edition game page >
King Robert Baratheon is dead, and the lands of Westeros brace for battle. In the second edition of A Game of Thrones: The Board Game, three to six players take on the roles of the great Houses of the Seven Kingdoms of Westeros, as they vie for control of the Iron Throne through the use of diplomacy and warfare. Based on the best-selling A Song of Ice and Fire series of fantasy novels by George R.R. Martin, A Game of Thrones is an epic board game in which it will take more than military might to win. Will you take power through force, use honeyed words to coerce your way onto the throne, or rally the townsfolk to your side? Through strategic planning, masterful diplomacy, and clever card play, spread your influence over Westeros!
The updated second edition
Nearly ten years ago, FFG published A Game of Thrones: The Board Game, Christian Petersen's gripping interpretation of the intrigue, diplomacy, and warfare of George R.R. Martin's epic fantasy realm. Since then, the Iron Throne has changed hands countless times and in thousands of homes, with alliances broken on the battlefield and friendships strained by sudden treachery. At the same time, the A Game of Thrones: The Board Game experience gradually evolved with the release of two expansions, resulting in an epic experience that's been printed in ten languages throughout the world.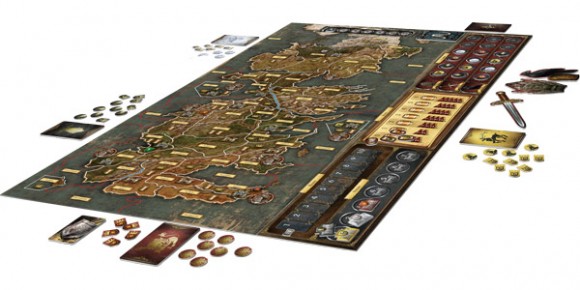 Now, with the popularity of A Song of Ice and Fire at an all-time high, Fantasy Flight Games is thrilled to offer a comprehensive and improved version of this beloved board game.
The updated second edition brings a host of enhancements to your A Game of Thrones experience. It incorporates elements from previous expansions, including ports, garrisons, Wildling cards, and Siege engines, while introducing welcome new innovations. Convenient player screens will hide your underhanded dealings from prying eyes, while new Tides of Battle cards convey the uncertainty of war. This, along with updated graphics and a clarified ruleset, means the time has never been better to claim the Iron Throne.
Add a Review for "A Game of Thrones: The Board Game (2ed)"