If you have an iPhone, iPod Touch or iPad you might be interested in the new Thunderstone AID utility app that AEG released yesterday. It's not a digital version of the boardgame, but a gameplay utility that also features high resolution images of the artwork from the original Thunderstone base set and its expansions.
Here is the description from the app store:
"Thunderstone AID is the official utility application for the Thunderstone Board Game.
* Browse High-Resolution images of the cards from Thunderstone and all of its Expansions!
* Use the Randomizer to speed through the setup process of the Board Game!
* Save your Setups as a Favorite so you can replay it again!
* Share your Favorite Setups with the world where they can rate it!
* PDFs of the Rulebooks on your iPhone and iPad
* iCloud support for all of your Settings and Favorite Setups
* Use the Card Creator to make your own Thunderstone cards that use the actual art from the Board Game and share them online! (ordering a fully playable physical version of your custom card from directly within the app is coming soon)
Thunderstone Advance Coming Very Soon!"
Here are some screenshots from the app: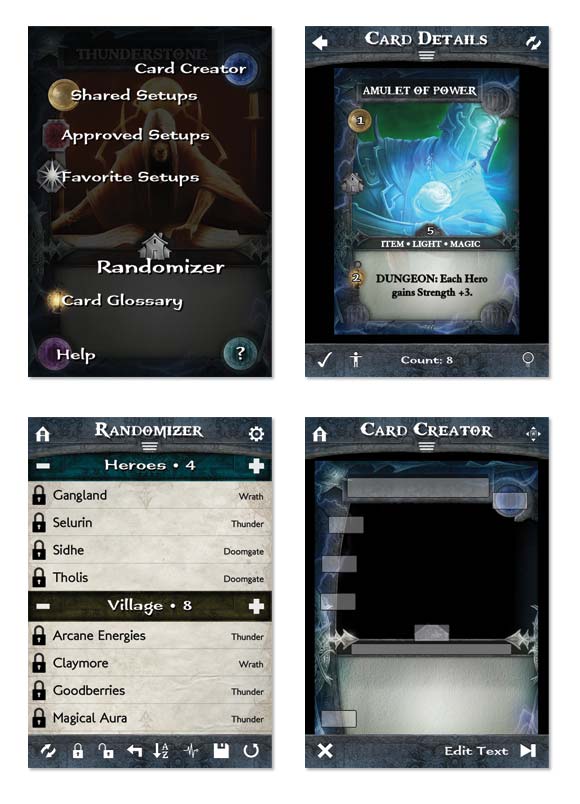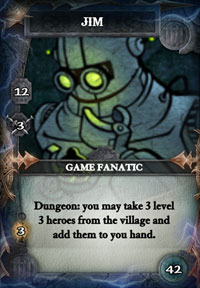 After seeing the really cool card creator, I couldn't resist playing around with it. I'm sure I broke the rules by using my own art, but the possibilities are endless! I'm not sure if my dungeon ability is very strong though (chuckle).
App price: $1.99
Thunderstone AID is compatible with iPhone, iPod touch, and iPad. Requires iOS 5.1 or later. 
App store link: Thunderstone AID