Handelabra Games, spearheader of one of the finest randomizer/hit point tracker/fiddley-bit reducers in all the known Multiverse – The Sentinel Sidekick – has some big news for the Sentinel Lovers of Boardgaming.com.
And we do love our Sentinels at the BGdot.
Sentinels of the Multiverse: The Video Game
Coming October 15th, 2014 for Android tablets & iPad.
Sentinels of the Multiverse: The Video Game is a 100% faithful translation of the card game, and will include all content from the Sentinels of the Multiverse Enhanced Edition.
Prepare to have your whistles wetter than Tempest in a talent show:
10 Heroes: Absolute Zero, Bunker, Fanatic, Haka, Legacy, Ra, Tachyon, Tempest, The Visionary, & The Wraith
4 Villains: Baron Blade, Citizen Dawn, Grand Warlord Voss, & Omnitron
4 Environments: Insula Primalis, Megalopolis, Ruins of Atlantis, and Wagner Mars Base
Original 3D environment backdrops — play across beautiful yet perilous environments.
Expansions will be available as DLC in the future: Rook City, Infernal Relics, Shattered Timelines, Wrath of the Cosmos, Vengeance, and more.
Play against your friends on the same tablet with pass & play, or go it alone in solo mode. (Future updates to feature network multiplayer)
Sentinels of the Multiverse has long been a Top Cape on the tabletop. Handelabra Games has long had the blessing of the Greater than Guys to create a multiplatformed Multiverse. With its birth in co-op vs. card AI gameplay, Sentinels has always seemed a natural for digital translation. Jeremy Handel saw the potential in Sentinels for Tablet-topping and appreciates the fact that "with great potential, comes great responsibility" for keeping it faithful.
"The idea of 'playing a comic book' is already present in the tabletop game. In digital, there's even less manual bookkeeping to break the immersion so it takes that idea and really pushes it that much further."
What better way to practice the slick nuances of Absolute Zero for the coming weekend or avoid the tall order of three-handed solo play? The moment has always seemed prepared for and now it is nigh.
Any Sentinel Lover knows the Multiverse is not without its secrets and digitals are not without their secret 'unlocks'. Sentinels Digital will be no exception with secrets unlocked during gameplay. (Handelabra chose to remain rather hush-hush prior to release – no matter how much Dark Visionary mojo I threw at them…but perhaps, just perhaps I heard the Wraith like whispers about the potential of alternative/promo character versions in the mix ;))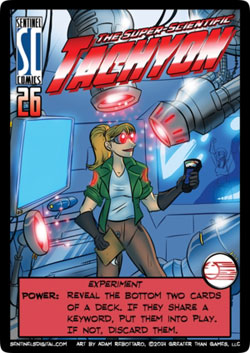 And speaking of secrets…
Handelabra will be offering a super hard-to-get (I'm sure you've heard of 'Young Legacy') real-life exclusive promo card to the first 5,000 who buy the game. The Super Scientific Tachyon! As they put it: "No matter where you live. Anywhere in the world. If you can live there, we can send it there." Just thought I'd let you know.
'nuff said. 😉
Sentinels prepare to 'ssemble! (at your friendly neighborhood App Store, Google Play Store, & Amazon Appstore for Android)

Handelabra Studio was formed in 2009 to explore the brand new world of mobile software. You may be familiar with our apps like RE.minder, Couplett or Sentinels Sidekick. But after we made our first real game – Uncle Slam – we simply knew that gaming was the future for us. So in the summer of 2013, we began to reorganize the company around a new gaming-only wing, dubbed Handelabra Games