Get rewards and complete quests as you explore select favorite games of other BoardGaming.com members!
Learn how to Explore a game on BoardGaming.com! >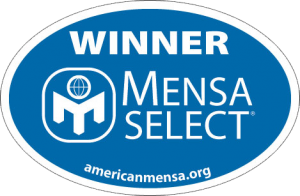 This month's explorables are Mensa Select award winners. Mensa Mind Games is an annual tabletop games competition open to games that are new to market within the last two years. Entries for 2018 consideration will have achieved national distribution between June 1, 2016 and June 1, 2018. In 2018 the event will be hosted by the Denver Mensa chapter in April. To find out about competing games and the winners, visit mensamindgames.com or search Boardgaming.com, where all the winners from recent years have the Family: Mensa Select.
Each year, members of Mensa meet over one weekend to play and rate the year's newest board games. The top five games earn Mensa Select® distinction and may display the Mensa Select seal on their packaging.
The seal indicates that a game is original, challenging and well designed. Indirectly, it indicates that a game is creative and original in concept, a good value for the price, easy to comprehend and play, and, above all, fun! Look for the Mensa Select seal when purchasing games.
Founded in 1990, American Mensa's Mind Games® is a 40-plus-hour board-game-judging marathon that draws Mensans and their guests from across the country where they vote on the year's five best new-to-market games to be awarded the coveted Mensa Select® seal.
Board games, card games and other types of table and party games are eligible; games may be designed for one or more players. Games are judged on aesthetics, instructions, originality, play appeal and play value. Judges fill out comment cards for each game. After the competition, each manufacturer receives the comment cards, which show the age and gender of players and include their ratings and comments regarding the game.
The competition is not open to games that are incomplete or not yet in production. Video, electronic, computer games or any games that take an inordinately long time to set up and play cannot be accommodated.
Once the 2018 awards are published, they will be added to Boardgaming.com so you can check them all out. I have included Clank! as one of the newer winners for you to explore, and although there have been quite a few plays logged, it will need some more reviews in order to be fully explored. You were all so amazingly helpful last month with Above and Below that I thought I would give you another challenge to help with.

Clank!
Dire Wolf Digital, Renegade Games Studio | Published: 2016
Lanterns: The Harvest Festival
Foxtrot Games, Renegade Games Studio | Published: 2015
Castles of Mad King Ludwig
Bézier Games | Published: 2014
Suburbia
Bézier Games | Published: 2012
Hive
Gen42 Games | Published: 2001
SET
Set Enterprises | Published: 1990

Have you played many of the Mensa Select games? Do you have any favorite Mensa Select games? Are there any awards that help you find new games?